MARK GOBLOWSKY
STRENGTH THROUGH THE STRUGGLE
WE ALL EXPERIENCE ADVERSITY.
HOW WE APPROACH IT DEFINES WHO WE ARE.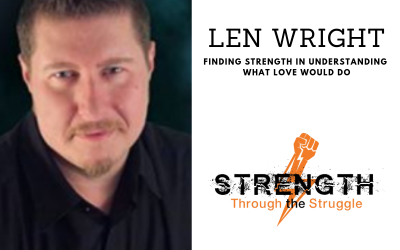 What Would Love Do with Len Wright Len Wright refers to himself as a Mental Alchemist. This is the second time Len has been on the show. I had him back on because he has helped me with how I see the world and myself. In this episode we talk about how sometimes when I...
read more
"Mark's message of Strength Through the Struggle inspired me to be a better husband, father and businessman. He helped me appreciate the struggles I have gone through and how to gain strength through those struggles. My struggles have shaped who I am and I can now serve others through the story of my struggles."
Chris Smith
The Campfire Effect, Phoenix, AZ
"When I heard Mark's story I could not stop thinking about it. It affected me deeply. It led me to reassess what's "really" important in life and how precious life truly is —powerful beyond words."
Ed Osburn
DC, St. Albert, Alberta, Canada
Mark's ability to see and pull strength from the struggles of life is inspiring. The more I learn about Mark and his life, the more in awe I am of his accomplishments. Where many men would've folded and called it a day, Mark keeps learning, growing and teaching that the greatest strength of your life can be found in the blessing of the struggle."
Sean "Coach" McCool
Master Life Coach & Founder of Rise Up Champion, Knoxville, TN
Mark's story challenged me to both remember what I value most and in remembering, to prioritize accordingly.
Larry Brown
M.D., Bellevue, NE
An inspirational father!
Chris Allen
Tring, United Kingdom
Email Mark
mark@markgoblowsky.com